I found out on Tuesday that Garry was going to be at this year's Speed Street 600 in Charlotte. I love Garry. I went to one of his concerts about 3 years ago in Danville VA. This man has so much energy and talent.
I look online for directions since I don't go to Charlotte that often and off we go. I have decided that since I get nervous driving in large cities and parking is supposed to be hard to come by that we are going to park and ride the Lynx train. We head to our exit and park and go to the station. It took a bit to figure out the machine to get tickets. It was 2.60 round trip for each of us. Then to the tracks to wait for a train. We pass on the first train because it was so full. Finally the second train shows up and we go on. We grab seats and it turned out to be a real good thing. By the time we stopped at all the stops and made it to our destination it wasn't even standing room only. I haven't ever been so crowded in my life. Finally at Speed Street. We walk around a bit and get some snacks and drinks. Listen to a few of the bands. One called Landsharks was singing Jimmy Buffett music and they were very good. I ask someone which stage Garry was going to be on since I have forgotten to bring the schedule. Turns out he was on the Miller stage. I start forcing my way to the front and taking pictures. Awesome concert all the way around. The trip home on the Lynx was more fun because now we knew to get better seats and there were a couple of young girls who were a riot to have on the train.
Here are some of my favorite photos from the concert.
band called the Landsharks- they were very good.
Gary coming out on stage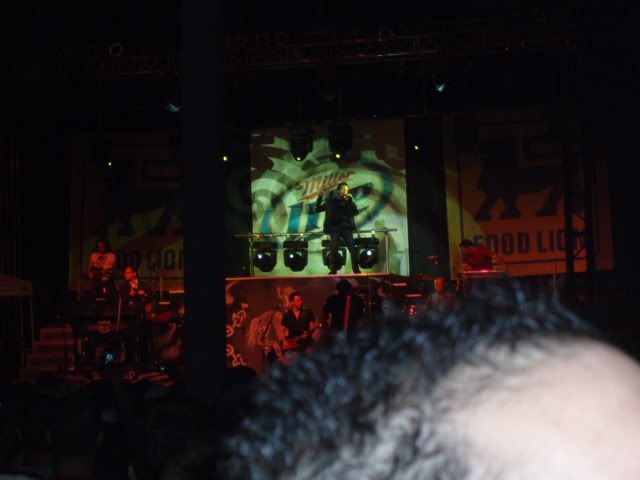 a closer view