I started the day out exhausted. I didn't sleep well and my cablemodem wasn't working. I had to call and make a payment on my account. They always say they haven't cut my account off but every time a payment is due the account stops working and within minutes of my paying it works. Then I went to my aunt's to help her move. I had to wait an hour as they were not at home. I only helped about an hour and it was time to leave so I could go to the musuem.
I read online they were having a Day of the Dead exhibit at the
Musuem of Anthropolgy
. After I got there it seemed it was mostly for kids but it was still pretty cool. It compares to Samhaim in my opinion. I love the idea of an altar to remember your departed. They had a little buffet of Mexican food out. I decorated a sugar skull and made a picture card of an altar. They were having a clearance table with some pretty cool stuff. I got a river rock from the Ganges with a butterfly on it. I also got some presents to give to a few of the kids in the family. I got a couple of copper bracelets for $1 a piece. They aren't pure copper of course. I wanted to upload the pictures here but blogger kept having an error so I put them on photobucket to paste here. We had a pretty good time though. I will be going back to get more stuff later. The woman at the counter said they have a sale around Thanksgiving and the gifts were all pretty unique.
My altar card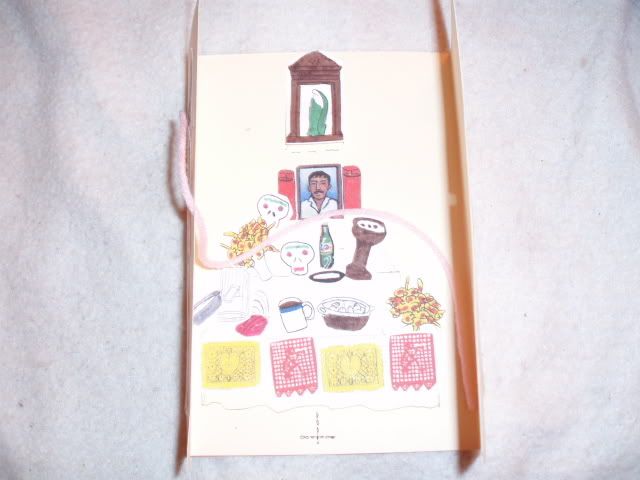 My butterfly stone from the Ganges River(its a lot prettier than this picture looks)
The jumping frogs are for Justin (hes 4) the peg games are for (Daniel, Taylor and myself) the flute is for Nick, the kimino notepad is for Jade as is one of the hanging charms. I also got a silver fertility goddess, and another silver image. I know its an Indian goddess but for the life of me I can't remember right now.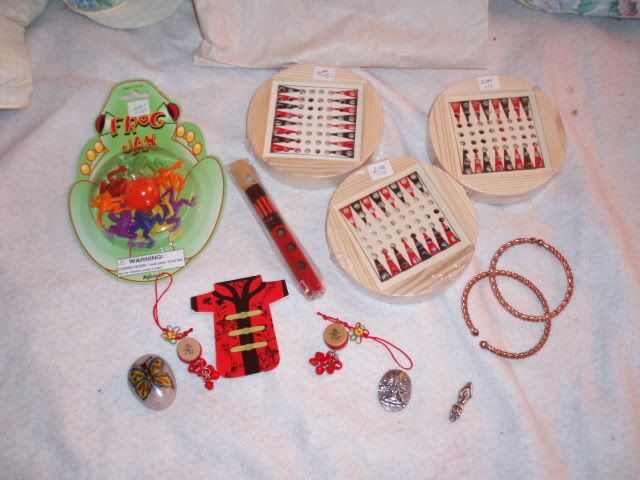 my sugar skull. She was a lot cuter before M got her face messed up with a purse strap.