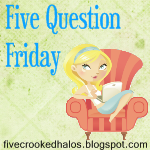 1. I
f you bake during the holidays, what is your favorite thing to make?
My oldest and I have a day where we spend the day making all sorts of different candies. I love it because we get to be together sharing memories, and we get to bless our neighbors with a gift. This year we made peanut butter fudge, chocolate fudge, dreamsicle fudge, mint patties, oreo balls, butterscotch no bake cookies.
2. Present giving:
Gift bag vs wrapped box?
If I am doing it its probably going in a bag and not having the fancy tissue paper. I am challenged when it comes to wrapping. I have my oldest do all my wrapping. She makes it look like Martha Stewart wrapped it with fancy bows and stuff. If I am forced to wrap instead of using a bag it looks like a 3 yr old wrapped it with rounded corners and gobs of tape. Not a pretty picture.
3. W
hat do you keep your thermostat on during the winter/summer in your house?
I like to be warmer so in the winter its pretty warm here but I don't keep it cool during the summer. Probably around 75-78.
4. When thinking of your "Christmas to-do list" what percentage "done" are you?
about 55%. My oldest helps with wrapping, cards and candy making. I do all the Christmas dinner, buying and choosing gifts.
5. Do you do the "Elf on a Shelf"? If so, is your Elf naughty and what shenanigans has he gotten into?
We just haven't ever got into elf on a shelf but I have seen some funny postings. My girls were grown by the time the elf on a shelf came around so we never picked it up as a habit.