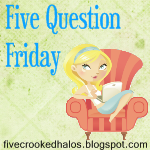 Well its that time again. Another Friday and the first one of 2013. So far the year has been ok, Nothing major good or bad but thats an improvement over anything bad. Its mostly just been too cold to so much here in WV this week. Originally they said it was going to get to the 60s this weekend but now when I look at the weather forecast it shows only in the 30s and snow. I sent my application in on another state job. Hoping that it works out for me. I have to say I love love love being home all the time but I hate the no money part. Now for the question portion of today's post.
1.
Have you set any goals/resolutions for 2013?
yes I always do, I don't always succeed but if you never strive for the mark you never improve is my thought process. I made a list of 12 goals for the year.
2.
Have you made any travel/vacation plans for 2013?
Not set in concrete but if I get the job I am wanting we have some ideas. We would like to buy season passes to Dollywood and got a few times this year. I would also like to go to Busch Garden Williamsburg, its my favorite vacation spot I have ever been too and we haven't been in probably 15 yrs or more. I have been doing research and planning the most economical trips possible. Plus at least a couple trips to Wheeling WV again. We went last fall and loved the town. There is always something happening there.
3.
What room is never cleaned in your house?
probably the one cleaned the least is my room but they are all cleaned normally. Clutter is my problem.
4. W
hat food must be in your house at all times?
tortillas, I use them to make mini pi
z
zas or as rollups for sandwiches, veggie burritos.
5.
Are you a hugger or more of a hands off person?
I am a hugger. I am always touching. I am one of those disgusting touchy feely people.